Gail Chiasson, North American Editor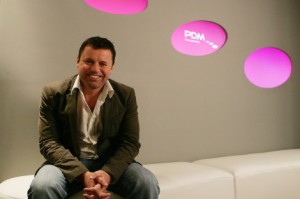 This month in the "CEO Spotlight", we welcome Brian Craighead, Chief Executive Officer of Prime Digital Media in Pyrmont, NSW, Australia
Prime Digital Media (PDM) is Australia's leading provider of Out-of-Home Digital (OOHD) media. PDM's digital signage networks deliver dynamic, relevant, clearly defined advertising solutions, engaging with the new 'media savvy' consumer at point-of-purchase in Out-Of-Home dwell points and captive consumer environments.
You have three of your own networks: the home electronics sector in Retravision outlets: the health and well-being sector with three drugstore chains; and in Boost juice bars. Recently, you partnered with Telstra Enterprise & Government to manage its mobile screens. Are you seeing PDM's future expansion coming from managing products for others through partnerships, or can you see other sectors open for your own current and/or additional networks?

We have the largest centrally-managed OOHD network in Australia, and given the range of audiences, locations and media forms, certainly the most complex. However, there's still a lot of work to do to get our network to the scale the market demands and, as such, our view is that – while the credit crisis bites and others delay and shrink – we must aggressively grow our coverage in four ways: –

Continue to add sites and audience coverage to our media networks in existing verticals (home electronics, lifestyle and wellbeing) with a view to doubling our network audience during 2009.
Aggressively grow the number of 'managed networks' we look after (organizations unwilling to introduce third-party advertising to their network and wish to leverage PDM's investment in infrastructure, content and management services)
Add 'iconic' sites to our portfolio that raise the bar for content and technical excellence in Out of Home Digital media.
And we will soon be launching our subscription service Retail.TV and will be marketing the service to small and medium enterprises (SMEs) across Australasia.

Your company launched a pro-bono environmental media partnership with Planet Ark with agreement to run environmental messages and promotions on all your media networks for 12 months and at a market value of Aus.$1 million. What is your specific interest that made you willing to make the arrangement with Planet Ark, and do you intend to extend that program beyond a year and/or to offer similar opportunities to other companies or organizations?

At PDM we believe the future of business growth depends heavily on a healthy environment and sustaining our natural resources for future generations. Recognizing the link, we wanted to implement a strong environmental policy across our business practices and in doing so reach out to the community to educate and encourage people to take action against global warming.

We were committed in using our media resources and content capabilities to educate staff, clients and a broad demographic Australia-wide on environmental issues, sustainability, and social wellbeing.

Our partnership with Planet Ark demonstrates that we are taking responsibility and leadership in the DOOH media sector. We believe our partnership symbolizes our long-term commitment to making a genuine contribution towards the environment by raising further awareness of Planet Ark campaigns and environmental tips & tricks which educate people in how they themselves can make positive changes that reduce their impact on the environment.

PDM intend on continuing our partnership with Planet Ark throughout 2009 and beyond. Our commitment to the environment is ongoing. As part of our mission to become a socially responsible business, we will be looking at other pro-bono partnerships with reputable not-for-profit companies during 2009.

Where does the Australian DOOH industry stand in relation to countries in Asia, Europe, the Americas? How do you see the current worldwide economic situation affecting the DOOH media sector in Australia?

When we set out to build the market leader, rather than rush out and build the best Australian business we could, we decided instead to spend almost a year traveling the world, visiting other DOOH businesses in the US, Asia and Europe, seeing what they were doing well and what could be done better. We also spent lots of time listening to influential retailers, media buyers and creative agencies, trying to understand what they were looking for with this new media.

The decision to take a breath first, listen to the market and then act, has paid off time and time again. Although Australia's smaller population means the industry in this country lacks the scale of network seen in other parts of the world, we are confident that the quality of the networks in Australia, and in particular the content running on the networks, rivals the best found anywhere else.

PDM was the first DOOH media to adopt the QR code (2D bar code). The QR code requires users to have mobile phones equipped with special software to read them. How large an audience is using QR code? Can they download music? Watch movie trailers? Order tickets through it?

QR codes have added a new dimension to the PDM networks. There is no barrier to entry, the technology is opt-in and there is no cost for the advertiser or the user. It works by the consumer using a camera phone that has been equipped with the reader software, scanning the image of the QR barcode causing the phone's browser to either launch and redirect to a programmed URL, text message, or phone number at no cost to the mobile phone user or the advertiser.

Now, with QR technology, consumers can further engage with the advertising on the PDM networks by instantly getting further information about products and brands of interest.

By simply flashing a mobile phone at one of the codes on the PDM screens, consumers can be directly linked to the advertiser's brand or product messages. Consumers can access all sorts of information, purchase products, participate in competitions, download music, and watch videos.

QR technology is relatively new in Australia but more and more consumers are taking interest in this new technology and the audience using this technology is growing at a steady pace. We predict that eventually all mobile phone handsets will be equipped with the technology which will give advertisers and marketers added value on our networks.

Does PDM have ambitions to expand beyond Australia? Where first? How soon will we see and mergers or acquisitions in PDM's future?

Over the last 18 months we have been regularly approached about opportunities to expand internationally but have delayed new market investment until we felt confident we could guarantee the same consistency of brand experience (quality and leadership) in new markets. Having established a strong position in Australia, we are now confident of progressively expanding into Asia, and as such have just entered into a go-to-market partnership with EnQii (www.enqii.com) which will see PDM much more active in Asia in 2009.

You recently unveiled Australia's first commercial installation of 3D content and technology. Can you explain what was involved/how 3D is or will be used? Will it be tied to any of your own networks or strictly to Telstra?

From our perspective, 3D TV – screen technology which provides a 3D image without the need to wear glasses – is simply another evolution in the DOOH experience. There are times when our audience will engage with our content in small 'snackable' glances, and there are other times when we want to stop them in their tracks. 3D TV, along with interactive surfaces and other dramatic installations have great visual impact – as long as the content is good enough.

Predictably, producing content for 3D TV is a more time consuming and expensive process. It requires an interesting combination of DOOH-aware creative and production skills, together with very niche 3D production expertise. As such, we tend to use 3D in very high-impact areas, including Telstra's 'Executive Briefing Centre', a recent Cinema opening and at the iconic Sydney Aquarium. In all cases, we have used 3D TV and purpose-built 3D content to cut through the noise and have a big 'stop and stare' impact with the audience.

You have an exclusive relationship with Pacific Magazines for content. Where will this content be used? Will tying yourself to an 'exclusive' contract limit your own growth/expansion plans?

Pacific Magazines publishes three of the top five magazines in the country, and reach two out of five Australians every month. Combining Pacific Magazines excellent content with PDM's market leading DOOH network makes sense to both parties. PDM delivers fresh, relevant content to a national audience, and Pacific Magazines delivers its message in a compelling new way to a large national captive audience. The relationship is exclusive as far as Pacific Magazines do not provide content to any other Out-of-Home Digital media company. We envisage the partnership going from strength to strength, but have been careful not to limit PDM's future growth in any way.

In 2008 PDM was the first DOOH media company to completely offset its greenhouse gas emissions to become carbon neutral. How did you go about doing this? You also offer advertisers the option to carbon offset their advertising on PDM networks. How does that work?

PDM engaged a specialist carbon reduction advisory company to conduct a comprehensive audit of the greenhouse gas (GHG) emissions accountable to our business. By undertaking a comprehensive Life Cycle Assessment, we have quantified the greenhouse gas emissions associated with PDM's Out-of-Home Digital media services. These findings were then independently verified and offset by purchasing Australian Government approved carbon credits.

On top of this, a calculator was created for PDM that estimates the carbon emissions for the use of all plasma and LCD screens used in our digital network. Using this tool, PDM can purchase carbon credits on behalf of our advertisers and offer carbon neutral advertising to clients for a nominal surcharge.

What trends do you see and foresee for the DOOH industry and for Australia in particular? Where do your competitors fit into this picture?

Before the global credit crisis kicked in, I would have said 2009 was a pivotal year for the industry: a year in which quality and scale would drive a wedge between the winners and the also-rans. The worsening economic conditions only reinforce this position. We believe companies who lack economies of scale, ready access to constantly changing content or the financial muscle to continue growing in a down market will suffer and more than likely will disappear. In effect, the strong will get stronger and the market will weed out the others. It's unfortunate as there are some terrific smaller players out there, but 2009 will be a long, cold winter for some.

From our perspective, we see 2009 as an opportunity to cement our position for the long run. While others consolidate or shrink, we will continue to aggressively grow the network, release new products and services and extend our reach into other markets.

With social media becoming so popular with advertisers, will this affect the advertising growth of DOOH media?

DOOH creates a wonderfully direct channel to a captive audience – our content is evolving rapidly to incorporate QR code interactivity, multiple-streams of live content and – soon – the ability for moderated social network content to be delivered right to the screen.
The key message here is that DOOH is fundamentally ALL about connecting the right content to the right audience. For those DOOH operators with strong content capabilities, social networks represent a great new opportunity to deepen the audience connection. For those more focused in the technology, it's yet another banana skin waiting around the corner.