Geckoboard today announced the launch of the Geckoboard Widget Editor, an extension to its already robust Developer Platform.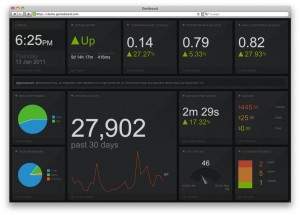 With the Widget Editor, developers can quickly integrate their company's service with Geckoboard. No API changes are required and there is nothing to download or install. Developers simply login and start creating widgets, right from their browser. The Widget Editor enables the developer to code (using standard web programming languages), debug and preview their widgets using the same tool that the Geckoboard team uses to create new integrations.
We are told that widgets can now be completed in less than an hour and available for customers within a matter of days. Geckoboard already offers over 30 existing widgets including Google Analytics, Twitter, Salesforce, Pingdom and Basecamp.
Paul Joyce, CEO and co-founder of Geckoboard told us "The ability for companies to create their own integrations and easily make them available on a Geckoboard is a powerful benefit and will lead to an explosion in the number of integrations we can offer our customers. Companies recognise the need for real-time analysis of their business metrics and the Widget Editor will help us to offer more integrations much more quickly than we were ever able to do before."
To showcase the openness of the platform, Geckoboard also announced that it will be holding two 'Hack Days' one in San Francisco on October 11 and one in London on October 26 – developers and interested parties are invited to attend to learn more about the new Widget Editor and work with Geckoboard's team to create widgets on-site in real time.
More information about the Hack Days is available here.