Our local printer is certainly getting a lot of business from us, fresh from supplying 1,000's copies of DOOH Insights:2008 to 2012 AND now readying themselves for the exclusive #dse2013 reprint, they also shipped us The DailyDOOH Gala Awards Tikets whilst we were away in NYC (see below and click to enlarge).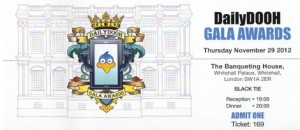 We are making progress on the DailyDOOH Gala Awards on other fronts as well.
Inspired by the DPAA / IZON Media Tote Bags given to attendees at the DPAA Digital Media Summit we have redoubled our efforts to put together a 'goodie bag' that we can be proud of.
We won't ruin the surprise by revealing just what's in it BUT we can reveal that there will be a raffle ticket to win a fantastic prize of significant value – hint, we need to thank NEC Display Solutions Europe, Ed
The DailyDOOH Gala Awards take place in London on Thursday 29th November.