Adrian J Cotterill, Editor-in-Chief
Almost a week late but last night we finally put the finishing touches to our presentation for the ISE DOOH Business Conference on 2nd February 2009.
Only a German 😉 would give us a presentation title, in English translated as "overview about content management systems and other important technologies for DOOH" but we worked through that hurdle and for our allotted 20 minutes we will be able to serve up 11 slides, starting with "Content Management Systems / Technologies – An Overview Of…" and then (hopefully) keeping the audience alert (we are presenting at 10:50am) with the (perhaps) controversial line "You've Got It All Wrong (But It Doesn't Matter)?"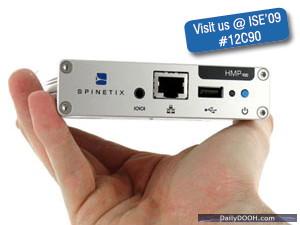 In a strange coincidence, we were just packaging up the PPT as a PDF to send off to the conference organisers when SpinetiX sent us through a press release about its HMP100, billed as "the world's first Hyper Media Player" (picture shown).
A quote from our presentation that is now winging its way to Amsterdam is rather apt we feel "The next generation of media players in ultra small form factors will open up Digital Signage to entirely new markets" !!!!
SpinetiX can be seen at ISE on Booth 12C90 and at Digital Signage Expo in Las Vegas 25th -26th February 2009 on Booth 1838.
By the way, our presentation will be up online on 2nd February 2009 and we will also be announcing our 2009 Top 10 Digital Signage vendors, list of.!!