Gail Chiasson, North American Editor
We noticed that McDonald's Channel is the newest member of the Digital Place-based Advertising Association.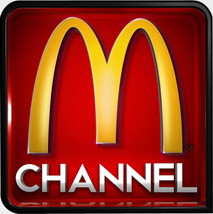 The McDonald's Channel is currently available in the dining area of some Southern California restaurants in the greater Los Angeles area, San Diego, the Central Coast, and Bakersfield.
Its web site says that it is focused on unique, short-form custom programming including news, sports, entertainment, and information
Its web site however makes no mention as to whether it is officially affiliated or endorsed by McDonald's proper.
We've also noticed that Wolf Karbe, CFO of ShowMedia, has joined the DPAA's Board of Directors.
And we expect that the DPAA will soon be announcing one or two additional big companies as members. With these, DPAA membership will have risen to about 45, a solid increase from last year's 29.