Gail Chiasson, North American Editor
An appellate court on Monday said 100 digital billboards installed across Los Angeles must come down.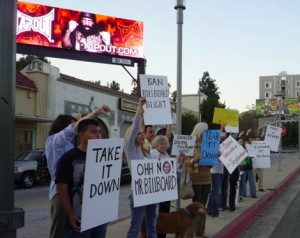 In a blow to two major billboard companies, Clear Channel Outdoor and CBS Outdoor, the 2nd District Court of Appeal ruled the permits for 100 digital billboards are invalid.
The digital displays are largely centered in neighborhoods like Hollywood, Westwood and Venice.
Dennis Hathaway, president of the Ban Billboard Blight Coalition, called the ruling a "complete vindication" for those fighting the signs. "We've been saying those billboards aren't allowed," Hathaway said. "The city has to follow its own rules."
The ruling centers around a 2006 agreement between the City Council and then-City Attorney Rocky Delgadillo, who forged a deal with the two sign companies in a closed-session meeting. The deal came despite a city ban on converting existing signs to digital billboards. The settlement agreement exempted the companies from 'numerous' building and zoning laws, including a 2002 ban on altering existing signs. It allowed the companies to maintain all of their pre-1986 signs, whether or not they were permitted or built legally. And it allowed conversion of up to 840 signs to digital.
The decision, by the California Court of Appeal, holds that the settlement agreement was void because the City Council lacks authority to exempt the sign companies from building and zoning ordinances. The Court of Appeal also ordered the trial court to revoke all digital permits issued under the authority of the settlement agreement.
Unless the California Supreme Court grants a hearing, the federal courts intervene (which seems unlikely), or the City changes its ordinances, this decision will be the final word and the billboards must come down.