Gail Chiasson, North American Editor
Ogilvy, Montreal's historic, high-end fashion retailer, is displaying, in its large rue de la Montagne window, an interactive digital display screen from iGotcha Media that is part of a charitable venture to help the Farha Foundation, Quebec's leading AIDS fundraising organization.
The Farha Foundation has unveiled an extensive collection of designer masks in honour of the 10th anniversary of Maskarade, an annual gala ball to help the Foundation in its commitment to help men, women and children living with HIV and AIDS. The masks are displayed in Ogilvy's windows, and the interactive digital display screen allows passersby to place bids on the masks, as part of an online silent auction.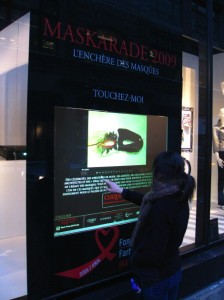 Over 75 world renowned designers, artists, interior designers and celebrities submitted masks commissioned exclusively for Maskarade, including Michael Kors, Philippe Dubuc, Kenneth Cole, Joe Fresh, Corno, Perez Hilton, Jully Black, Anouk Meunier, Pink Tartan, Andy The-Anh, Elisabetta Fantone, Glen Baxter, Lutz-Patmos. All proceeds of the online auction will benefit the Farha Foundation.
Appearing in Ogilvy's window until Feb. 28, the iGotcha interactive window display consists of a high-powered projector, a 60-inch optical foil, a touch foil (applied to the inside of the window) and a server running iGotcha Media's proprietary software. The interactive display responds to the user's touch, enabling people on the sidewalk to interact with the application directly through the glass.
The display showcases photos of the masks being auctioned, lets people place their bids, promotes the Maskarade Ball and provides information on the Farha Foundation. It also allows users to play 'One' a U2 song, and send it on the Web to their friends. For every song sent, Bristol Myers Squibb will donate $1 (to a maximum $100,000) to the Foundation.
"This is the first interactive window we've done that includes sound," says Michael Terni, iGotch executive vice-president and co-founder.
"We really pushed the envelope with this mask auction and tried to do something innovative to mark Maskarade's 10th year," says Simon Tooley, Maskarade Chairman. "Because this is our first auction of this type, we sent out mask requests, not really knowing what to expect. The support we've received from designers has been truly overwhelming, and the masks are beautiful."
Maskarade on Feb. 28 will recreate a night of glamour and mystery with black and white attire and everyone in masks, based on Truman Capote's famous 1966 masked ball at the Plaza in New York. Patrons will be treated to live music performances, and Justin Trudeau, MP, honorary president of this year's gala, will be accompanied on stage by Canadian TV and radio personality Sonia Benezra as MC.
Maskarade 2009's theme "It's Time to Take Off the Masks" was created to commemorate Ron Farha and his courage to stand up and 'take off his mask'. Since 1992, the Farha Foundation has distributed over $7.3 million to some 70 AIDS organizations throughout Quebec providing care and services (housing, medication, food, palliative care, counseling, homecare, etc.) as well as AIDS prevention and education programs.