Adrian J Cotterill, Editor-in-Chief
We have written before about Surrey based Vision-Text after spotting some of the currency exchange installs that they have done at UK airports and here we see them announcing a joint venture with digital signage agency Pixel Inspiration.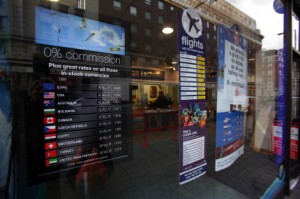 The JV is ostensibly to deliver next-generation digital currency exchange rate solutions to the travel and banking sectors.
As you probably know, currency exchange rate boards traditionally deliver updated prices via a static LED display board and so the plan here is for Vision-Text to be able to offer a next generation of Digital Signage powered currency exchange rate displays – the new displays woukd present financial data, alongside advertising and information content in an animated digital format across LCD or plasma screens.
It's a good tie up for both parties. First off, many of the UK's leading travel and financial organisations such as Travelex, TUI, Money shop and International Currency Exchange already rely on Vision-Text's technology to display currency exchange rate information.
Pixel Inspiration of course are going from strength to strength and not a month or two goes by without another pretty good installation. Pixel are probably fast becoming the best digital signage agency in the UK.