Gail Chiasson, North American Editor
The Christie Interactivity Kit, powered by Baanto ShadowSense, and now shipping, is a distinctive solution for adding multi-touch interactivity to any digital display.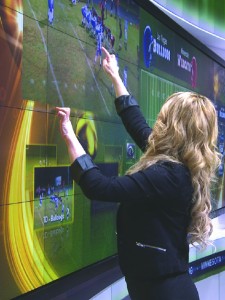 Designed in pieces, it accommodates practically any large format display up to 21.4 ft. wide and 6 ft. high, or a Christie MicroTiles array measuring up to 16-units wide by 6-units tall. It fits perfectly around Christie MicroTiles and can be configured into 84 different sizes.
The easy-to-use, field-installable kits simply attach around the display wall perimeter and plug into a computer USB port without the need for drivers. Nor is manual calibration of sensors or cameras required.
Christie Interactivity Kit offers excellent performance with high touch accuracy and fast response times that support up to 18 touches on a large-format display.
"With their stunning image quality, colours and resolution, Christie MicroTiles are the perfect medium for large format interactivity," says Richard Heslett, senior product manager, Business Products, Christie. "For example, on broadcast sets, where MicroTiles are very popular, an on-air commentator can analyse a sports event or election results using the Interactivity Kit on a large presentation wall.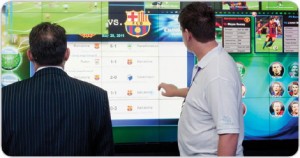 "Because of their modularity, MicroTiles and the Interactivity Kit are both easy to move around and flexible in size, so they are ideal for temporary events and trade shows. Rental stagers can purchase one set of gear and create a multitude of different shapes and sizes with it.
"Other great applications include museums and public institutions where visitors want to explore and learn, higher education where students want to learn and connect with each other, and corporate spaces where information needs to be shared and analysed by colleagues in a collaborative setting."