Gail Chiasson, North American Editor
If you missed Jimmy Kimmel last night, don't worry about it: you might see what you missed on Outcast Media's pump top network when you gas up your car.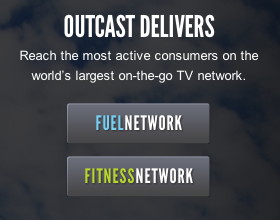 Outcast, the fast growing television network at the pump with 18,000 screens in over 100 DMAs, has signed a deal with ABC Entertainment to air custom clips of Jimmy Kimmel Live. ABC Entertainment will also provide Outcast with clips of The View, The Chew, and other premium ABC programming. Jimmy Kimmel Live airs weeknights at on ABC.
Outcast's audience – also known as the 'Ungettables' – consists of drivers 18-to- 54 who travel more than 8,000 miles each year by car and live in the top 25 DMAs. Ungettables love to catch the news, sports, entertainment and commercials at the pump, while filling up at the gas pump. (The average fuel time at an Outcast pump is four minutes.)
"The partnership with Outcast and ABC provides us the opportunity to become part of a people's everyday life," said Marla Provencio, chief marketing officer, executive vice-president, ABC Entertainment Group. "By providing custom content to people on-the-go, we are engaging potential new viewers and fans alike with rich, entertaining ABC programming."
"We are very excited to offer our viewers the high quality comedic content they crave like Jimmy Kimmel Live, and in turn to help a broadcast giant like ABC reach and engage with our hard-to-reach audience," says Nathan Gill, Outcast co-founder. "88% of our viewers fuel up before primetime, which offers ABC with a perfect opportunity to reach people who are on a pathway to primetime television viewing."