Adrian J Cotterill, Editor-in-Chief
All #dse2013 conference attendees on Tuesday 26th February 2013 will get a free copy of our DOOH Insights: 2008 to 2012 Volume I DSE Special Edition thanks to the organisers of Digital Signage Expo (a few hundred additional copies will also be available from the Digital Signage Federation Booth 1607).
This is a relatively exclusive edition of our most recent book, it's got a new INTRODUCTION thanks to Symon Communications Inc.'s Charles Ansley, lots of new advertisements (thanks to the International Sign Association, Digital Signage Connection, Digital Signage Federation and Symon), some revised advertisements (AOpen, IZON Media), updated interviews and a new spine and cover.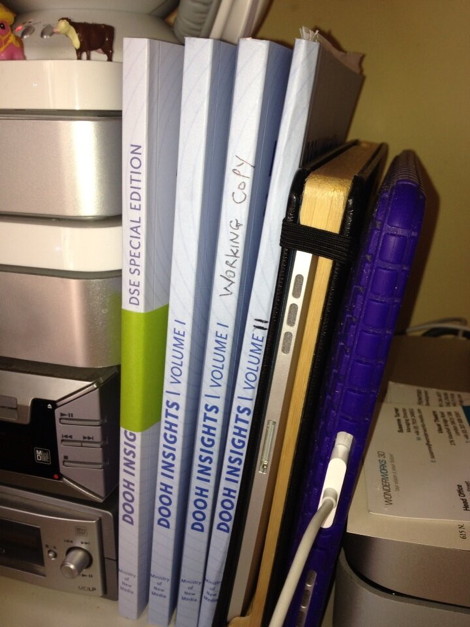 It's shown above, far left (no not the cow) alongside DOOH Insights Volume II but don't get too excited – that's a mock up to show the proposed contents to sponsors and advertisers at #dse2013 in Lost Wages.
DOOH Insights Volume II is not due for publication until October 2013 where it will see its first global distribution, once again, in New York as part of #DpbMedia week.