Gail Chiasson, North American Editor
It's not exactly digital but we liked it and for Mercedes-Benz Canada Inc., in Toronto, they are believed to be the first luxury vehicle distributor in Canada to use electroluminescent technology in a billboard advert.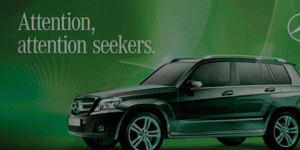 The automobile company is using it on a billboard within a campaign to launch its new 2010 GLK-Class premium SUV. Highlighting the striking design features of the vehicle by using electroluminescent technology, the billboard debuts this week on the highly trafficked Richmond and Adelaide streets, near the Don Valley Parkway in Toronto, giving the vehicle's design prime visibility.
"The idea behind the campaign launch was to focus on the GLK's unexpected design features," says Pieter van der Griend, manager, national marketing communications, Mercedes-Benz Canada. "The vehicle's exterior is edgy and modern – a real departure from what consumers would typically expect from a Mercedes vehicle. What better way to show off these striking features and angles than by using the lighting effects of the billboard's electroluminescent technology. The concept was a natural fit for the GLK launch."
The electroluminescence essentially lights up the design lines and trim along the car creating an animation within the static image. Paper-thin electroluminescent pads were first placed behind the static image. Then individual sections were programmed to light up sequentially via flat electrodes on the back of the sign to create a simulation of movement or animation. The seamless flow of action gives the impression of actual motion in real time.
Luminous Media, Canadian manufacturer of the billboards, produced a new glossy surface on the electroluminescent poster that allows the billboard colours to be more vibrant during day and night. The Mercedes 2010 GLK launch is the first time this product has been used on a billboard in Canada.
"The billboard breaks the norm of traditional luxury vehicle ads," says Paul Reilly, senior vice-president, managing director, BBDO Toronto. "The entire campaign stems from the GLK's brand platform of 'You've never seen a Mercedes like this'."
Developed by BBDO Toronto, with creative provided by Jung von Matt, Mercedes' agency of record in Germany, the GLK launch campaign also includes a combination of backlights and superboards in five major markets, magazine insertions, and a national newspaper campaign. Astral Media provided the electroluminescent billboard and OMD did the media buy.
Mercedes-Benz Canada is responsible for the sales, marketing and service of four brands within the Mercedes Car Group in Canada: Mercedes-Benz, smart, AMG and Maybach. Through a nationwide network of 18 Mercedes-Benz owned retail operations and 39 authorized dealerships, Mercedes-Benz Canada sold 24,117 vehicles in 2008, the best year ever reported for Mercedes-Benz Canada Inc.