Adrian J Cotterill, Editor-in-Chief
Renew is described as a dedicated network of 200 street-side screens within London's Square Mile. The network went live, rather quietly as it happens, on 26th January 2012 which was all rather surprising given the reputed GBP 11 million spent getting to that point.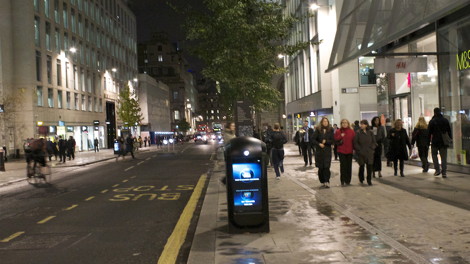 If you have been watching CNBC lately you may even have seen their own 40 week TV ad campaign promoting the network and its new 'Go Local' initiative in the City of London.
Kaveh Memari, CEO of Renew, told us "The CNBC campaign allows Renew to raise the profile of our brand on the Trading floors, in the City whilst influencing the key decision makers in the oldest financial district in the world".
He added "The 'Go Local' Initiative is the first time City based clients can broadcast commercial messages directly via our network of digital on-street pods to their customers on the street. With Renew we are hoping to help both the 'here and near' – Go Local – and the international markets – CNBC. We believe that the new media portal will help our clients and interested parties understand how to best use this opportunity".
Renew's media portal aims to help clients and media partners understand the potential of reaching the City of London demographic. From April, clients can buy long-term holdings on Renew's screens directly outside or en-route to their head office. Live updates with creative content produced in-house will act as a vehicle to communicate both to staff, corporate customers and The City. The dedicated local slot will be interspersed with the Citywide clients.
Renew claim to reach 3.1 million professionals every day on the go.