Christie and visual solutions partner IMTEC have rejuvenated the sports program of Munhwa Broadcasting Corporation (MBC) with the installation of 136 Christie MicroTiles used a a broadcast backdrop.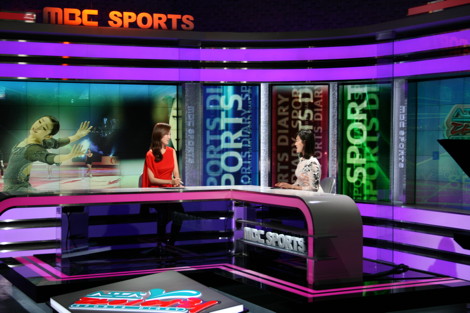 Dubbed locally as the Kingdom of Dramas, including the all-time favorite of Dae Jang Geum, MBC is rated as one of the leading broadcasters in Korea for its credibility, popularity, audience ratings and influence.
"This is the first time we're deploying the Christie MicroTiles in our studio. We're simply amazed by its flexibility to create different shapes and sizes to make the studio interesting and lively," commented Min-Keun Song, senior producer, sports production, MBC.
"Using LCD TV as a backdrop previously for our studio, we're conceptualizing a more creative studio to set ourselves apart from other broadcasters. The Christie MicroTiles give us an edge to create a unique design. As we plan to shift into a new building in the near future, the Christie MicroTiles' flexibility also allows for easy transition and setup in our new premises."  
With its humble beginning as Korea's first private commercial broadcaster dating back to 1959, MBC is instrumental in the development of the Korean broadcasting industry with its nationwide influence of 19 regional stations and 10 subsidiaries.