Adrian J Cotterill, Editor-in-Chief
'Outcast To Replace Its Scala Network?' we wrote way back in December 2009 and more recently (but even that was a year ago – Friday, August 24th, 2012) we asked 'What's The @gilbarcoinc + @OutcastMedia Fallout?' with the on / off / subsequently denied acquisition that never happened.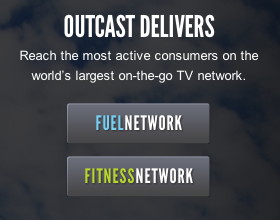 We quote from last year's article "Outcast were seemingly yet another ad based network that was unhappy with what Scala could offer … we still believe that Outcast will announce that they have switched to BroadSign sometime soon" – well that sometime soon is now.
That's right, almost 12 months later, news comes in with the announcement 'Outcast Media Selects BroadSign Digital Signage Software for its Fuel and Fitness Networks' which will see nearly 19,000 fuel pump and health club screens convert to BroadSign.
Outcast's CEO and co-founder, Matthew Stoudt, told us "With one of the smartest networks in the marketplace, Outcast needed a robust platform driven by innovation.  We evaluated a series of vendors which resulted in a clear win for BroadSign. We saw that its highly intuitive and scalable platform and industry-leading team made the best choice for our fast-growing network."
Outcast Media claims 19,000 screens in 120 DMAs and tells us that both networks will be converted and that it has already started the conversion of its digital signage advertising networks to BroadSign's Software-as-a-Service solution.