AOPEN this week announced the Digital Engine DE6100. The DE6100 comes equipped with an AMD Embedded R-series accelerated processing unit (APU) Dual/Quad Core and offers: –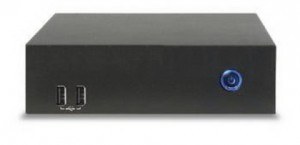 Support for both Spanning (stretched desktop) and Extended Desktop on all connected screens using Eyefinity technology for up to three independent (Full HD) displays
A Secure Asset Management unit that allows for GPU-assisted encryption/decryption of content, enabling less CPU overhead and lower power
Enhancements to the Unified Video Decoder that extend the capabilities of the AMD Embedded R-Series APU platform to include high definition decoding with dual output and stereoscopic 3D
Support for ultra HD resolution (4k) through display port
Organizations will be able to feed content to three separate displays, allowing them to either create three different video feeds or a single video feed distributed across a three-panel display or three independent displays. Customers will not need to buy additional graphics port splitters; they are in the box ready to go.
The unit also has low power consumption and has been designed for use in vigorous environments. It features the full suite of industry standard options; 2x USB 3.0 ports, 4x USB 2.0 ports, 1x Display Port, 2x HDMI ports, 12V support, Gigabit LAN and RS232 port.
All this comes in a compact form factor that makes it well-suited for signage solutions within retail, finance, hospitality, large enterprises and other major vertical markets with highly demanding signage needs.