Gail Chiasson, North American Editor
STRATACACHE, Dayton, Ohio-based provider of scalable, high-performance digital signage, and enVu, a New York-based out-of-home interactive media company owned by STRATACACHE, introduced a technology collaboration enabling cinemas to interact more closely with moviegoers.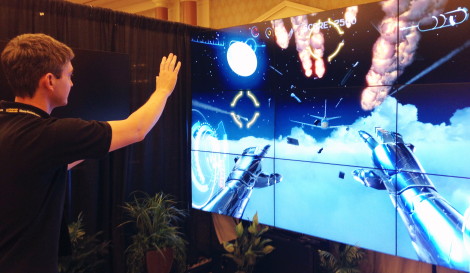 Unveiled at CinemaCon in Las Vegas, the joint solution features an immersive, movie-based experience from enVu, powered by STRATACACHE's award-winning digital signage software.
"Interacting with today's sophisticated moviegoers is crucial for cinema owners and operators," says Chris Riegel, STRATACACHE CEO. "The goal of our joint solution is to create immersive experiences that help the moviegoer feel a connection with the cinema and its brands, while facilitating a better customer experience."
The Digital Play solution showcased at CinemaCon – specifically tailored for cinemas -displays interactive movie characters programmed to respond when a customer interacts with the content via motion-based gestures. With the Digital Play experience, moviegoers can step into the movie character's role to fight villains and defend civilians, all by using gesture-based hand motions, thus entering into the world of a superhero and experiencing it firsthand.
The floor-based Digital Play experience is comprised of depth cameras tracking particular movements and is typically a 6×8 ft. mat. The wall-based model, available in 2×2, 3×3 or 4×4 46″ displays, is based on simple, infrared movement detection capabilities.
STRATACACHE and enVu are located in booth #2019A at CinemaCon at Caesars Palace in Las Vegas.