Premium outdoor media owner Ocean Outdoor has launched its first full motion city centre screen in Leeds with campaigns featuring Samsung, Nationwide, Marks & Spencer and Costa Coffee.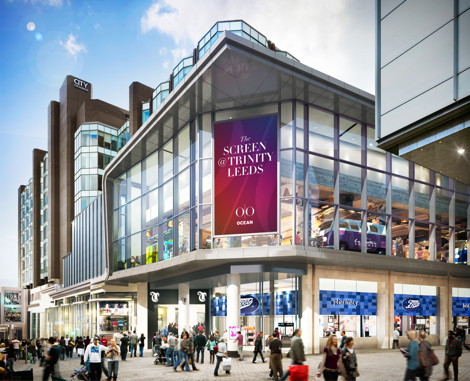 The Screen@Trinity is located above the main entrance to the newly opened shopping centre Trinity Leeds, overlooking the busy thoroughfares of Albion and Commercial Streets.
Ocean Outdoor marketing director Richard Malton said: "Leeds has been a target for Ocean expansion for a number of years and is central to the development of our full motion regional network.
"The Screen@Trinity delivers everything that an advertiser would expect from an Ocean site; an iconic location, innovative design, the very best technology and above all a premium audience. Collectively these elements deliver a deeper emotional impact for brands wanting to target shoppers in Leeds."
According to figures from Leeds City Council more than 24 million tourists visit Leeds city centre on day trips every year.
The screen measures 6.1 by 3.5 metres. Its location in one of the UK's busiest business and shopping districts offering advertisers a chance to reach an audience of more than one million city workers and shoppers per fortnight.