Adrian J Cotterill, Editor-in-Chief
Eyetease have been around for well over four years now, so it seems weird to see them described as a 'TechCity start-up' in the latest press release and various bits of PR seen in traditional UK media over this past weekend.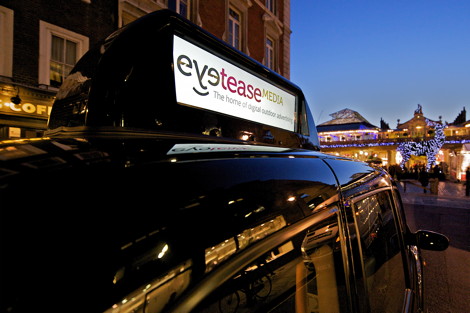 The press release tells us that the taxi tops (the EyeTease iTaxitops) are currently undergoing Transport for London (Tfl) approval (what the hell have they been doing for the last few years) and are expected to hit the streets courtesy of Verifone Media this summer.
The release also states that this will be, we quote "marking an industry first for digital out of home (DOOH) formats" BUT of course, unless that is a 'UK industry first' it isn't an industry first at all … screens on tops of taxis have been seen in NYC and Las Vegas for some time now.
The UK newspaper The Sunday Times said that it will be OFFERED to about 6,000 cabs (that doesn't mean that it will be taken up by 6,000 'cabbies') BUT the press release gave NO details of the exact nature of the deal (whether it be a purchase / licence / etc.).
Separately we hear that BrightMove Media's TaxiCast solution is close to having 25 cabs hit the streets in London in the next few weeks as well.