Gail Chiasson, North American Editor
A massive, unique video wall at the head office of Christie Digital Systems USA in Cypress, California, lets the high performance visual technology giant powerfully showcase its technology and portfolio using a simple tablet as the controller.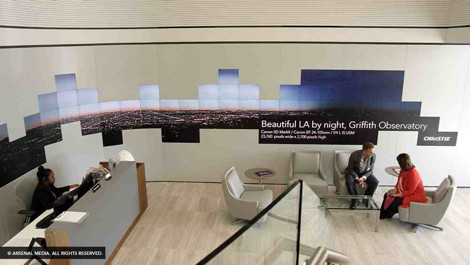 The video wall uses 108 Christie MicroTiles embedded into and spanning two walls in the main lobby. The system runs product and compelling branded and ambient digital content at a full native resolution of 23,760 x 2,700 pixels; the equivalent of 30 full HD sources or eight 4K resolutions.
For this complex project, Christie selected Montreal-based Arsenal Media to create the installation design, technical playback system, interactive tablet controller and custom content strategy.
It combines 17 Christie MicroTiles ECU control units, 11 high performance custom PCs, using coolux Pandoras Box as the main installation manager and playback software. The system also uses a Christie Spyder X20 video controller and one Christie JumpStart server.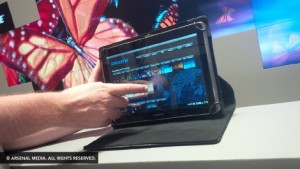 The installation was officially launched and inaugurated May 16, 2013, by Jack Kline, president and COO of Christie Digital Systems USA.
"With this project, we feel we've pushed the Christie brand to a whole new level," says Kathryn Cress, vice-president, global and corporate marketing, and the project's executive producer. "Our main objective was to fully leverage MicroTiles' capabilities and push the limits in terms of content standards. We've achieved this in spectacular fashion. It delivers the level of impact a customer or partner would expect when they walk into the headquarters of a company with Christie's reputation and track record."
Arsenal developed a rich, flexible library of full motion digital material for the vast, jagged MicroTiles canvas. They vary from custom 'inside looks' at Christie's product range and company background, to ambient video showing things like Los Angeles streetscapes and whimsical backgrounds that showcase the color reproduction, saturation and crispness of the MicroTiles display blocks.

"This project is about how important technology and content blend to drive a single, streamlined strategy," says Denys Lavigne, president, Arsenal Media. "It's about an integrated vision of this fantastic media. It's also about collaboration and truly impactful experiences. We're very proud to have been part of this adventure. It was a great opportunity to continue our explorations into the relationship between technology and creativity, in the context of refined, branded experiences."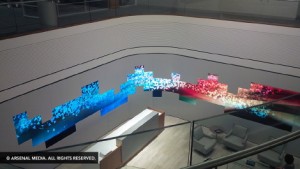 Arsenal Media has been working closely with Christie on its innovative MicroTiles product since well before its late 2009 launch, and has developed and executed the strategy, creative and technical execution for several signature installations – and winning project and design awards for work done with such clients as The Nielsen Company, Sun Life Financial, the Miami Dolphins and Caterpillar.
The Arsenal team had already completed two lobbies featuring MicroTiles at Christie's Canadian offices, but the Cypress project was by far the most involved and sophisticated.
"Using this big canvas as a visual showcase was the key element, but we also wanted to develop a system that gave Christie a lot of flexibility in how it could be used and managed," says Lavigne.
Arsenal adapted coolux display controller technology to enable content and playlists to be fully managed using a simple tablet app. The user interface allows reception desk staff to control playback sequences, and create custom welcome messages for guests. Christie executives and sales people are now able to do snap demos right in the lobby.
The installation uses a coolux Pandoras Box as the master technology for the system, handling set-up and control of the playlist, content loops, graphic, video and sound layers together, and then dispatching them through coolux Pandoras Box Media Players, which synchronize and drive the MicroTiles visuals. The company's Widget Designer controls the playlists, allows users to add custom text to certain visuals (such as customer greetings), and is the basis for touch controls using an iPad.
"Our technology was designed to produce quality visual experiences," says Steve Gilbard, president of coolux Media Systems USA, "and we're very impressed with the results of this project, and how it pushed the limits of our tools."
RP Visual Solutions provided and installed the MicroTiles mounts.
"Our MicroTiles mount allows precise mechanical alignment, insuring flat and tight seams for a stunning image," says Randy Pagnan, president of RP Visual Solutions. "Additionally, we supported Christie with project management services to aid in the installation."
While Arsenal handled the experiential portion of the project, its success owes much to the quality of the collaboration of the overall project team, which included Albert Franco and Victor Flores from Christie, RP Visual Solutions, Cibola Systems, R. Taylor Design and coolux Media Systems.