Late last month, the 3rd Digital Signage Moscow conference (again) entitled 'Digital Signage – no alternative' was held at the Radisson Slavyanskaya hotel and again the conference organiser Digisky managed to gather together Digital Out-of-home representatives and end-users from different vertical markets.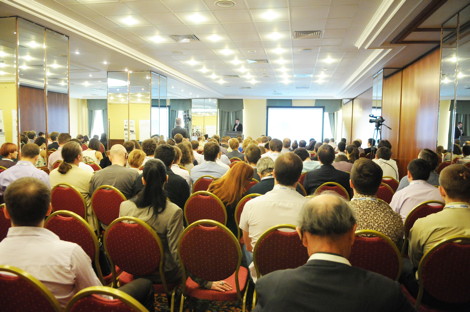 More than 300 specialists had visited the conference, among them representatives from such big companies as AMMA Development, K-rauta, Coca Cola, Enka TC, EKA, TSUM, Museum of Russian impressionism, Kosmic, Renaissance Development, RIABANK, Sberbank, PUMA Russia, Adamas, Rigla, Otrada mall, O'STIN, Azbuka vkusa, Robert Bosch, Aeroexpress and many others.
LG Electronics company showed LED seamless video wall with Shine out technology, which allows to use displays in shop-windows with the same brightness even by daylight. On the LG booth there were also portrait 72"displays.
Within the framework of the conference DigiSky had presented solution of its new partners – iDisplay tablets and real-time video analytics solution Quividi. Also demonstrated was an up-to-date 3D mapping technology by creating fashion show during the conference with the use of only one mannequin and projection.
DigiSky Ukraine demonstrated Digital Signage systems in restaurants rather well, an e-menu integrated with a sales register, screens in checkout area suggesting additional dishes and drinks, displays inside the restaurant.
Casio presented its projectors based on laser and LED technology. Representatives from Casio had demonstrated on their booth: digital mannequin, virtual promoter, Kinect and touch screen.
On the Adissy booth they demonstrated a corporate TV project recently deployed for Coca Cola Hellenic as well as various holographic pyramids and cubes with 3D content.
Perhaps the most eye-catching technology however was the invisible Displair screen, made from water and air.
The conference itself was opened by Florian Rotberg, who gave an update on the European DOOH industry. Nikolay Alaev, Business development director from DigiSky, then spoke specifically about the Russian DOOH industry whislt Commercial director of DigiSky Ukraine office Viktor Korobko then added to Mr. Alaev's presentation with real examples of using Digital Signage in restaurants.
Pavel Pochtenov, Head of intellectual media systems department with the Croc company, gave a very interesting presentation, glancing into the future and demonstrating how Augmented Reality and 3D technologies can be used in today business.
Rod Wardle, Vice-President of Yesco Electronics, Kai Thaesler, Managing director of Stroeer Digital Media and Natalja Boehm, Area Sales Manager CIS at Scala all explained in their presentations how digital technologies influence brand image, how to attract client's attention, and how to reach a target audience.
Grigoriy Rabinovich, Marketing manager at Subway and Olga Narozhnaya, Marketing communication director at COLIN'S, shared their experience in using Digital Signage technology, and elaborated on the problems they faced and discussed their plans for the future.
Vladimir Kozlov, CEO at DigiSky group summed up the feelings of all who attended when he said "Three years ago this conference was created as a platform for those who are interested in Digital Signage and want to know more about it".
He added "The popularity of this third conference shows us just how valuable it has become for the industry."