Last Wednesday, the digital signage community descended on Toronto's downtown to take place in Digital Signage Federation's Night of Networking.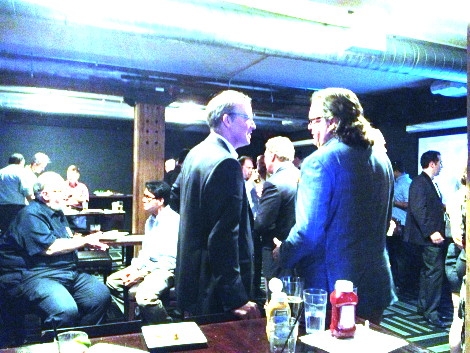 Sponsored by NEC Display Solutions and Capital Networks and held in partnership with CODACAN, the event featured a brief presentation from OLG's Michael Tutton, the lead on OLG's Digital Signage initiative featured in this study [PDF].
The event drew a strong crowd, with a wide range of regulars from previous Toronto Digital Signage Mixers as well as a strong showing of new and international attendees.
In attendance were the usual contingent from the hardware manufacturers (TTUFF Tech, LG, NEC, HP), software firms (Capital Networks, Four Winds Interactive, Omnivex, Rise Vision), integrators (Gridcast, Cineplex Digital Media, SignCast Media, Clearview Digital Marketing) distributors (Synnex, Tech Data and Seneca Data) and folks such as Mark Matha, Phil Cohen and Michael Arnett. A few media agencies and media properties lurked around, including Trapeze (who I'm told were behind the dazzling content in the Shaw branches) and Rogers Broadcasting.
Many others in attendance really helped make this a well-rounded industry event.