Gail Chiasson, North American Editor
Linkett, another new digital signage product, was launched in Canada yesterday, July 24, 2013, aimed at enticing retail companies to enter the digital signage sector.
It was launched in Ontario's Kitchener/Waterloo technology hub by WestonExpressions, a technology business providing hardware and software technology for the out-of-home advertisement industry.
Its product, Linkett, which is currently in pilot test by five unidentified companies, unites online promoters to mobile users, enhancing the consumer experience in the real world.
The Linkett system enables any existing TV or digital sign to be motion and mobile compatible with WestonExpressions proprietary technology developed at the University of Waterloo. This gives the ability for consumers to take content such as coupons, brochures, apps, and more on the go with their mobile device, simply by tapping their phone or tablet to the Linkett unit plugged into the display. It uses patent-pending NFC technology which is claimed, is new to the industry.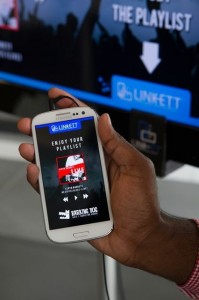 The display can talk consumers through the process and feed them relevant information creating a unique and interactive atmosphere. The cloud based software included in the system transforms current marketing materials such as pictures or videos into interactive and engaging experiences in an easy, effective way with no tech team required.
Linkett generates real-time analytics for every person who walks by, looks at, and interacts with each screen, per location, all in real-time with no cameras. The device also can trigger different content to appear based on the consumer's level of interest.
We talked to Douglas Lusted, CEO of the young company, founded in 2012, that has been backed and financed by the University of Waterloo's Velocity Venture Fund, the University of Toronto's Creative Destruction Lab and some 'Angels'.
Linkett involves the use of the company's own thin media player, with a small device, and Linkett's own software that responds to any NFC-enabled smart phone (Android, Blackberry, etc.). A QR code also allows response with an iPhone.
We asked Lusted if a network could use other digital software (either a player or a CMS).
"No, you have to use our thin media player and software," says Lusted. "If people compare what Linkett offers to what they get with their own software, we think that they may very well want to change to Linkett."
With Linkett, you could have numerous screens on your network in a location and different content appearing on each one.
"Linkett delivers engaging content to target audiences by turning average televisions into effective marketing engines through our mobile and motion technology," says Lusted. "This really grabs the attention of consumers in a much more personal way."
Linkett manages all media delivered to the displays and to mobile devices that come into contact through an online platform, eliminating the need for an IT department. This platform improves and simplifies the user experience by handling the uploading, editing, organization and scheduling of advertising campaigns. The new content is immediately uploaded to the desired displays through Wi-Fi, Ethernet or 3G Networks. The dynamic technology allows marketers to actively monitor campaigns and receive real-time analytics.
"We are actively looking at this time for hardware partners," says Lusted.
WestonExpressions is opening a limited pre-order offer of Linkett for a one-time fee of $99. This includes three Linkett devices and access to its online platform as well as two months of service. First devices are expected to ship in fall 2013.