Gail Chiasson, North American Editor
It's confirmed: Toronto-based Vertigo Display Systems, which became part of Chilin back in January, 2011, has been sold to a not-yet-revealed private Canadian investor for an undisclosed sum as of June 30, 2013.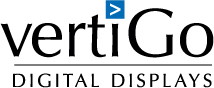 The purchase was confirmed by J.B. Daines, president of Chilin Solutions, and Ralph Idems, co-founder of Vertigo who heads the company under its new owner.
Daines told us that the company – which had not yet planned to release the information – wanted to focus on flat panel solutions for its OEM partners, while Vertigo was more into digital displays.
"Our strategic focus on OEMs is serving us well globally," he said. Daines also told us that both Brad Gleeson and Scott Hix, former senior executives at Chilin/Vertigo, are continuing to do work for Chilin and to consult with other companies.
"I'm excited for Ralph and the Vertigo team as they move forward as a stand alone business," said Daines.
Idems told us that the two companies will continue to support each other, that Vertigo will still use Chilin resources, and that Chilin will manufacture for Vertigo for the next five years,
"However, Chilin is a big global company and decisions were slow, and we were a smaller company that was very entrepreneurial," said Idems. "It wasn't really a good fit, so I went out and spearheaded a move to find someone who was willing to put money behind us for R&D, manufacturing, new product development.

"Four years ago, we were a pioneering industry and had been heavy in engineering research and the like. We needed big dollars to set up again. Now you can watch for us to 'come out of the closet' with new products, branding, a new facility, recruiting, R&D. We're planning to be fast growing in Canada."
While Idems is under a gag order not to reveal the company 100% backing it and the money involved, we believe it is a technology company with serious expertise in tech-related out-of-home.
"You're going to see the Vertigo brand a lot now," said Idems. "We'll be taking booths at Digital Signage Expo (for the first time in six years), at the Outdoor Advertising Association event and the National Restaurant Show. We'll probably co-sponsor a tech event in Canada. And in the long run, we want to be a global company."
Idems said that Vertigo had recently introduced a 47" high bright digital menu board with three configurations and a 72" portrait bus shelter style screen – "very green, using low power."
And, he says, there will be more to come, both in new products and other announcements.
Vertigo's co-founder was Chris Bolton, "an incredible graphics illustrator," said Idems. "He moved back to countryside in the U.K. a couple of years ago. I wish I could lure him back."