Gail Chiasson, North American Editor
We hadn't heard anything about REACH, based in Eden Prairie, Minnesota, for quite some time so co-founders Marc Kline and Darren Wercinski. CEO, brought us up-to-date with the company's growth and activities during a short interview on Monday.
When we last talked to the partners, they had been close to becoming part of the RMG Networks group, but that, they told us, didn't happen because RMG's focus moved away from fitness clubs and RMG actually
sold its own Fitness Entertainment Network
to Orion Equity Holdings PLC.
"We're doing very well, are up to 700 screens of our own, with our continued emphasis on hyper-local advertising, and we have an agreement with Life Time Fitness to represent us nationally while we represent it locally," they told us. "We have a team of 60 persons and have five entry level openings for sales, a project manager, and an IT director."
REACH was named a Top 100 Company to Work For by Minnesota Business Magazine for the second straight year, and also made the Minneapolis/St. Paul Business Journal's Fast 50 list of fastest-growing private companies in Minnesota for two years in a row.
REACH's newest project is being introduced this week. The company is very active in sports facilities including ice arenas, and in the college and university sector in both the U.S. and Canada. This new product is geared especially for this market.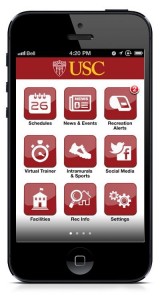 Whether at a University Recreation center or local YMCA, facility administrators have a challenging time communicating and engaging with members who frequent their facilities.
"Students and members don't want to be given paper calendars, flyers and schedules any more," says Mike Munson, assistant director of recreational sports at University of Southern Califrnia. "Trying to communicate via email is becoming a challenge because texting, social media and alerts provide the real-time information and social media endorsement that student's want."
To help solve the communication challenge, REACH Media Network partnered with top college recreation and fitness centers across the country to create a branded app available on iPhone and Android platforms. The initial app helps put facility information directly in to the hands of those who need it.
Kline says that once an individual enters into a facility, there are ample opportunities for the facility to deliver their message, "from digital signage platforms and touch screen kiosks, to the printed materials that facilities distribute." What was lacking was the ability to reach out and notify users of upcoming events, last minute changes in schedules, or other updates when they were not physically in the club.
"Today's students are glued to their phones and it serves as their primary communication source," says Scott Haines, director of campus recreation at The College at Brockport. "We want to be to be able to communicate with those students on their terms and an app allows us to do that inside and outside the facility."
REACH has always been active in recreational centres with digital signage and interactive solutions, "so the app is a natural extension for us," says Wercinski. "We'll be able to leverage our existing platform so partners can do everything in one place. The College at Brockport, along with UCLA, USC, Cal Berkeley, University of Wisconsin and our other partners, have been helping guide us throughout the development process to make sure our product meets their needs."
Existing facility partners let REACH know that they expected a mobile app to be customizable, to integrate with their scheduling software, and to include real-time push notifications to alert students of changes. The REACH mobile delivers on those needs and provides one platform where the facility will be able to manage all of their digital communications. The REACH mobile app is also available as a stand-alone app to facilities that are not currently software partners.
Beyond that. REACH has signed up between 10 and 15 new hockey facilities to its growing list of clients in its REACH Media Network.
"We're rockin' and rollin'", says Kline, adding that he and Wercinski plan to attend the Digital Signage Investor Conference in New York in October – an event that they seldom miss.
REACH uses Montreal-based BroadSign for its content management.