As we were the first to reveal last week a new NanoLumens display is monopolising commuters' field of view in Penn Station, NYC.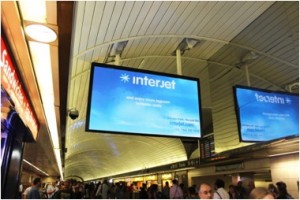 To capitalize on the massive daily audience that passes through the station, CBS Outdoor turned to NanoLumens to provide a unique solution that can't be missed.
The NanoSlim display that hangs directly over commuters heads as they travel through the Long Island Railroad corridor of the station is the first time that a digital advertising display has ever been suspended from the ceiling in Penn Station.
According to NanoLumens President & CEO Rick Cope, the ability to place the display in this location was possible because it weighs less than 700 pounds and uses less than one-third of the energy that a comparable LCD, plasma or projection setup would require.
With a lifespan of 100,000 hours (more than 11 years running 24 hours a day), the NanoSlim display was not only the most eye-catching option, but also the most cost-effective – in fact, a lightweight LED display is probably the only viable option for a hanging display in a brightly lit environment, Ed.
The 4.5-inch thick, double-sided 126" NanoSlim LED display uses NanoLumens' 4mm pixel pitch technology to deliver bright, crisp, clear images and video on a display that is seamless and bezel-free, making it one of the most potent messaging platforms in Penn Station.
This installation comes on the heels of NanoLumens recent announcement of several large NanoSlim displays being used to provide vivid, long-life video solutions for the new Sao Paulo Metro Line 4 in Brazil.