Adrian J Cotterill, Editor-in-Chief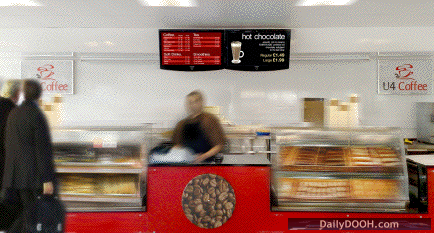 Menu Boards are of course, everywhere and anywhere that there is a menu and a price. Some change often and some don't.
There aren't however that many Digital Menu Boards around – which we think is incredibly surprising when you think how well digital signage (especially in conjunction with HD displays) is suited to this sort of solution.
The digital menu boards pictured above look great we think – we especially like the two screens side by side in the centre of the counter, the good use of colour and the legibility of the text. Menu boards of course are the one thing that is almost guaranteed to be looked at in QSR environments.
Beaver Solutions supplied this digital signage menu board system to U4 Coffee, a local coffee shop near their offices in Hertfordshire, UK.
Using Scala InfoChannel 5, Beaver designed a custom menu board which incorporates easy-to-use templates and high-impact graphics and video. The system is managed on site by the coffee shop manager, and is supported by Beaver Solutions.
It's a solution that we would love to see in Starbucks, Costa, Pret,, Cafe Nero etc etc. – not just in independent coffee shops!
The last digital menu board we pointed you at before this was in Finland on board a Ferry courtesy of Cayin Technology.
Bizarrely we have only ever seen a very small number of McDonalds digital menu boards also (a few high profile restaurant sites in the Netherlands with LibriumTV and a couple of restaurants in Singapore).