Adrian J Cotterill, Editor-in-Chief
Regular readers will note that many of our individual posts up on DailyDOOH have what we call a POST banner attached to the top of it.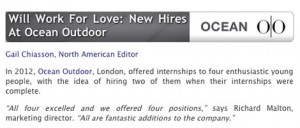 That's the colourful header that surrounds the subject of the post itself.
This post's POST banner is for one of our favourite creative agencies, mooKuh for example and the images above and below shows the Ocean Outdoor POST banner and Watchfire LED Signs POST banner which is used whenever we write specifically about either of them.
Well, we recently figured out that they brightened up the site so much that we thought that from now on, we would offer them for FREE.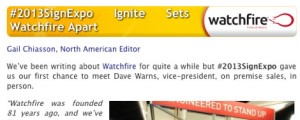 That's correct. Free! Free for ever that DailyDOOH is online. If we write about your business on a regular basis and you would like to have a POST banner that surrounds the editorial you can ask mooKuh to design and craft one for you.
All mooKuh needs is your logo, a basic idea of what you would like it to look like (it needs to be very simple 'cos the title of the post still needs to fit within it) and GBP 375. Contact natalie@mookuh.co.uk if you are interested.
POST banners stay up on the site and are attached to editorial ad infinitum and we can hyperlink the banner to a URL of your choice. Probably the best thing about POST banners is the more we write about you the more your brand and logo get seen!