Adrian J Cotterill, Editor-in-Chief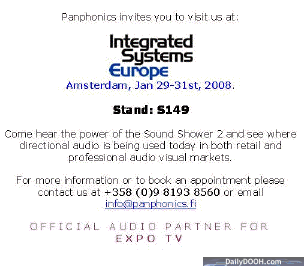 One of the best things at shows is to see and hear things that you couldn't experience in any other way (sorry, does that make sense?).
We have written about Panphonics' Sound Shower several times before but nothing beats hearing it.
Well, you can at Stand: S149 at ISE, Amsterdam where Panphonics will be showcasing their Sound Shower 2 directional audio system.
Well worth a visit.