CBS Outdoor UK and the British Fashion Council have just announced the launch of #FashionFriday – an interactive stream of exclusive fashion content that will be broadcast every Friday in selected London Underground stations.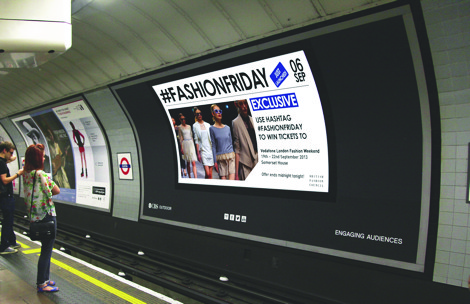 The weekly bulletins will be broadcast from London Underground's Cross Track Projection (XTP) screens while commuters wait for their train. Each #FashionFriday loop will offer up a 20 second weekly update covering Breaking News, Exclusive Interviews, and Trends and Events. Each week will feature a different category, designed to whet fashionista's appetite for the latest must-have clothes and accessories.
Jason Cotterrell, Managing Director, CBS Outdoor UK told us "We're increasingly seeing the democratisation of the fashion industry. Social media have transformed London Fashion Week from a relatively closed industry event to a lively consumer show through live streaming and the use of Google Hangout events. Consumers want to interact with things that interest them, and we know that those three minutes of downtime waiting for a tube are a great opportunity to grab attention. #FashionFriday is an engaging way for the British Fashion Council to take advantage of a high impact touchpoint to reach an affluent urban audience and start a great conversation."
Clara Mercer, Head of Marketing at British Fashion Council added "London is a global leader in creativity and innovation and through our on-going digital strategy we have identified key opportunities to strengthen the ways we interact directly with consumers. #FashionFriday provides a dedicated platform for engaging with London's growing audience of fashion followers and lays down the foundations for an ongoing dialogue that excites and inspires."
The first edition was broadcast last Friday 6th September and included a competition to win free tickets to Vodafone London Fashion Weekend – this will be followed up with a wide range of stylish content from London Fashion Week itself. Commuters are encouraged to take part in the conversation and see what others are saying using the #FashionFriday hashtag.
Previous editorial strands using CBS Outdoor UK digital XTP screens include Timeout's What's on in London recommendations, Lonely Planet's 1,000 ultimate global sites and a Commuter Kitchen series with Lisa Faulkner.