There are very few international events where one can listen to a Frenchman, a Finn and a Taiwanese all happily insulting each other in Mandarin over a Heineken in Holland. An Australian, an American and this Englishman was none the wiser until some quick-fire running translation revealed the main topics of conversation. Suffice to say that none of it was remotely repeatable here.
The International Scala Conference is one of those events. We said it before two years ago, but it still holds true, there isn't another of Scala's competitors that could mount this sort of event.
This conference has been important for Scala as Tom and his team re-assert Scala's commitment to its worldwide partners and VARs. Whatever the grumblings there have been in the past over the possibility of deals being done direct, it's their partners and resellers that are the backbone of Scala's sales successes worldwide.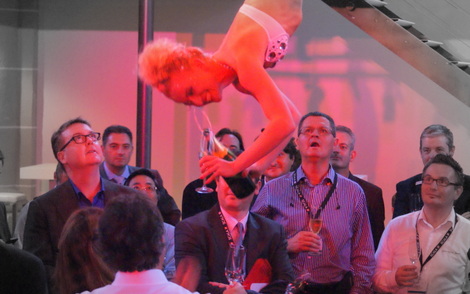 And as a thank you for that, the scene was set for the evening's entertainment with everyone being poured a glass of champagne from above by an impressive aerial artiste.