Gail Chiasson, North American Editor
Tim Bleakley, CEO of Ocean Outdoor, has a 'small' aim for his boutique company: to make it a GBP 100 million company by 2018.
In one of the most intriguing (and well received) talks to attendants of The DailyDOOH Investor Conference last week in New York, Bleakley outlined the growth of his company from a small, money-losing company ($1.6 million) in 2009 through a 2012 $56 million leveraged buy out from Smedvig Capital and others he made with support from management and LDC (part of Lloyds Banking Group); his expectations that digital out-of-home will make up 22% of total U.K. outdoor market by the end of 2013; and his plans to have the vast majority of his portfolio as digital.
Accompanying all this and more were visuals of Ocean Outdoor's large size properties (super premium large format digital and banner outdoor spectaculars) and their content that have won numerous major awards, in 2011 Ocean's MicroLoan Foundation won a Gold Cannes Lions for its Pennies for Life campaign, in 2012 Ocean won a Reggie for Best Original Digital Billboard and, with partners, Best Digital Out-of-Home Campaign, at The DailyDOOH Gala Awards.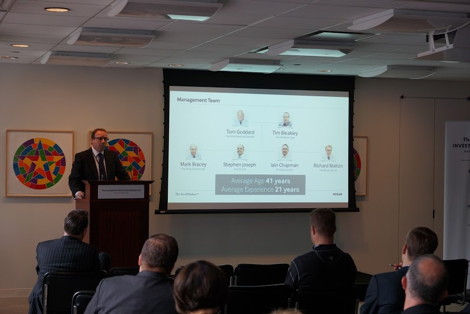 "We are upscale but not huge scale," said Bleakley. "We are a boutique."
Ocean Outdoor is currently in Phase Two leading to 2015 of a three-phase business plan – the first was the leveraged buyout, Ed. Phase 3 will be from 2015-2018.
"Raising debt was the overriding issue , particularly for advertising companies, when we did the buyout," he said. But prior to that, the company had to deal with due diligence on many fronts.
What did the LDC deal bring to the plan?
A management buyout restarts the clock;
A business plan buy-in and discipline;
Every employee has a share so there is an ownership mentality;
Investors bring cash networks, sales chances and infrastucture;
Focus and vigor on areas of the business otherwise might have been ignored.
"We've now focused in innovation, brand position, thought leadership and brand dexterity," said Bleakley. "We've focused on things that others couldn't do."
He then showed some of the new developments undertaken this year; Neuroscience, showing how the brain works subliminally when seeing DOOH, the Grid (a full motion large scale network already across dix cities but will be in the top 10 cities of the U.K. in the next year), Ocean Labs – one of its initiatives is delivering ads to specific demographics and a new WiFi network being rolled out across many of its sites.
And, as an industry observation, Bleakley concluded, "Technology today is ahead of the creative."