Gail Chiasson, North American Editor
We are a litte late in learning about this, but impressed by the fact that DISE, Karlstad, Sweden, was able to move quickly on the Phase two installation it did for 3 Mobile in Hong Kong earlier this year.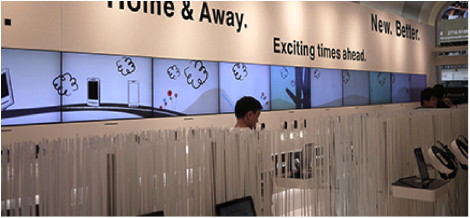 After a stunning synchronized multiscreen installation was built up in the flagship store of 3 Mobile in Hong Kong, in August, 2010, the second phase of the installation was completed in early 2013, this time running DISE Enterprise.
In this new installation, 20 x 46" narrow bezel video wall panels have been placed in a horizontal line across the store and form a digital gallery surrounding the customers. All 20 screens play synchronously with theme-based content in loops. DISE NoBorders enables creation of synchronized presentations with layered visual effects. By using one CPU per screen, a 40,000 pixel content output width is supported.
Sixty contact triggers are integrated below the screens, which enable interactive product information to pop up when a customer pulls off phone samples. The latest mobile phone models seem to fly across the shop seamlessly, thanks to the synchronized screen setup.
Content production is mainly operated by 3 Mobile's in-house motion Graphic Designer. System design and software integration was done by onActivity, the DISE representative in Hong Kong. With the latest DISE Kickstart technology facilitating simple software installation and configuration, 50 shops with 170 players were deployed in just two months.