Guest Contributor, Gabrielle Offringa
AOPEN Forum Europe is the ideal occasion to share insights on the essentials in Digital Communications. AOPEN brings business together and will help you lay the groundwork for future partnerships in converging markets.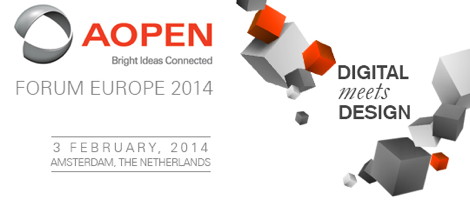 During this year's Forum on Monday 3rd February 2014 we will build another high level conference, with emphasis on connecting the dots between digital and design. We will go through the process of a project from idea, purpose, design, creation, implementation and analysis. With over 150 industry experts from all over the world, you are guaranteed to learn all about new business opportunities and get inspired!
The agenda will be made available soon, so stay tuned! Register now (click here) and join us for AOPEN Forum Europe 2014!