Looking at the tables taken at The DailyDOOH Gala Awards I see a wide variety of businesses from all sectors of our industry and demonstrating many facets of the Digital Out of Home industry.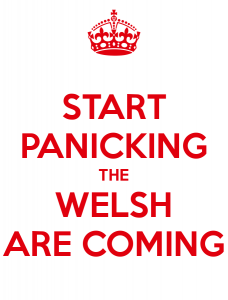 What is also evident is the global nature of attendees and of course the event itself. I see tables representing Belgium, Canada, France, Germany, North America and I would say most importantly, Wales.
The Welsh are known for their truly global presence; just ask the Welsh speaking group of settlers who arrived in 1865 in Patagonia, South America – you might not understand their response but yes, that is Welsh they are speaking.
Here in Wales we have the longest place name that holds the title of the longest URL in the world† – and no I don't know how to pronounce it either.
Did I mention Rugby? Invented by the Welsh (not true, Ed††)… DailyDOOH's English readers will fondly remember the final game of the 2013 Six Nations Tournament which the Welsh won. Again. If you have forgotten how we did that then, especially for the English Rugby fans attending next week, see 'The Story of How Wales Won the RBS 6 Nations' here.
Sheep outnumber people here – no other country in the world can better our love of sheep – New Zealand, Ed? … as a food source that is!
Gareth Bale – the world's most expensive footballer.
Shirley Bassey, Tom Jones, Richard Burton, Anthony Hopkins, Dylan Thomas, Elvis Presley – yes, recently spotted in South Wales – all global superstars.
And this, a global hit single released a few years ago, all about that well known city that never sleeps, Newport.
Having said all of that, my team and I at Amigo and our guests Alchemy Expo Ltd and clients are looking forward to a great night out in London next week – Iechyd Da!
†http://llanfairpwllgwyngyllgogerychwyrndrobwyll-llantysiliogogogoch.info

††William Webb Ellis (1806–1872), English Anglican clergyman; the man who is said to have invented rugby