Adrian J Cotterill, Editor-in-Chief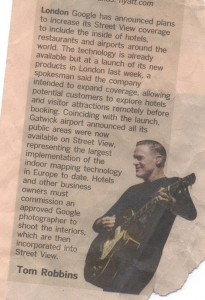 Google announced plans the week before last to increase its Street View coverage to include the INSIDE of hotels, restaurants and airports around the world.
Gatwick airport even announced at the same time that all of its public areas were now available on Street View (the FT article shown to the right here was quoted as saying that this was "the largest implementation of indoor mapping technology in Europe to date).
Expect to see Eye Airports jump on this and other enterprising folks (other large European airports for example and obviously, businesses like JCDecaux) to make use of this from a planning perspective in the New Year.