Harrods has just unveiled its newly refurbished Escalator Hall three as owners, Qatar Holding, continue to invest in the customer experience. The install continues with the store's rich heritage and architectural history while integrating the latest in digital media technology, including 16 new escalators over seven floors that feature high definition video-walls – providing Harrods' brands optimum advertising opportunities.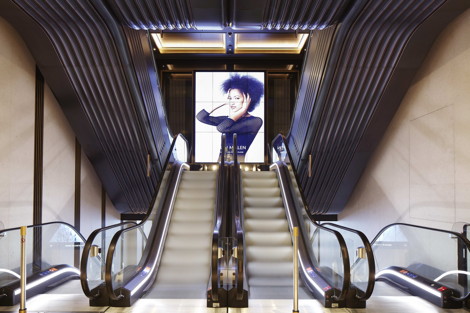 The video walls incorporate a combination of Sharp and Samsung screens supplied and installed by Vivid Digital Retail. The Samsung screens are located across the Lower Ground Floor entrance into Menswear while the mezzanine, Second and Fourth floors have high-bright video-walls from Sharp (the six walls are operated using Apple Mac-based software by Sedna)
This latest generation of digital media follows on from the previous escalator redevelopment on Hans Road in 2010 when Harrods first introduced video walls into its Harrods Media portfolio.
Harrods Media Director Guy Cheston told us "It is the perfect platform for our brands to reach our discerning clientele with their latest advertising campaigns, thus helping to drive footfall and awareness."
Harrods Media offers brands a truly unique and premium platform of communication in the most captivating and exclusive environment, with a desirable clientele to match. A dedicated team of experts provide a production, design and installation service for all Harrods clients, and manage all media operations in-house, including the technical logistics and digital creative for the digital screen network.