Guest Contributor, Gabrielle Offringa
During this year's AOPEN Forum Europe, being held on Monday 3rd February 2014 we will build another high level conference, with emphasis on connecting the dots between digital and design. With over 150 industry experts from all over the world, you are guaranteed to learn all about new business opportunities and get inspired!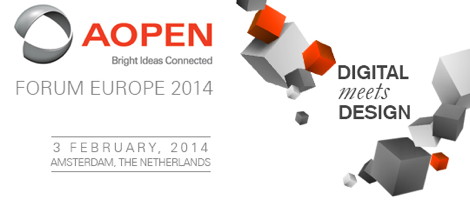 Speakers include: –
Gary Kayye, Founder & CEO of rAVe Publications
Rod O'Shea, EMEA Director – Embedded Sales Group Intel Corp.
Leo van de Polder, General Manager POPAI Benelux
Lars Peters, Director IT & Logistics ECE flatmedia GmbH
Stephen Borg, Corporate Director, Global Strategy & Market Development AOPEN
Jack Chou, General Manager AOPEN Europe
The detailed agenda and registration can be found here.