Shoppers at major shopping centres around Australia are being challenged to pack the boot of a virtual Nissan Vehicle with everyday family household items as part of a national experiential campaign being rolled out by oOh! Media.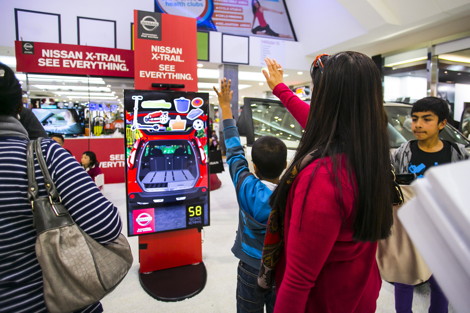 The gesture control game aims to demonstrate the Nissan X-Trail and Pathfinder's large boot space by challenging shoppers to drag items in the correct order to pack the car and ensure everything fits.
The game has four settings – the beach, camping grounds, the playground and in the city. Each setting has its own set of items to be packed representative of that environment.
The game is one part of the Nissan Family Holiday Zone showcase that is managed by oOh!'s experiential team oOh! Factor, which involves promoting the car and entertaining children with face-painting, colouring-in and a photo booth.
Shoppers are encouraged to register their interest in Nissan's X-Trail or Pathfinder via iPads and receive a Nissan showbag with further information and promotional items.
Shoppers are being directed to the Nissan Family Holiday activation via supporting digital advertising. The campaign runs until 19 January 2014 across key shopping centres in Australia. Each activation runs from Thursday to Sunday during centre trading hours.
Campaign: Nissan Family Holiday Zone
Client: Nissan
Creative Agency: Whybins
Media Agency: Aegis Media
Media and Production: oOh!