It looks like Ocean Outdoor has invested heavily in upgrading The Screen @ Canary Wharf – we note a brand new full motion screen from displayLED. that also introduces Ocean's latest face recognition technology (via Quividi of course) and full wi-fi capability.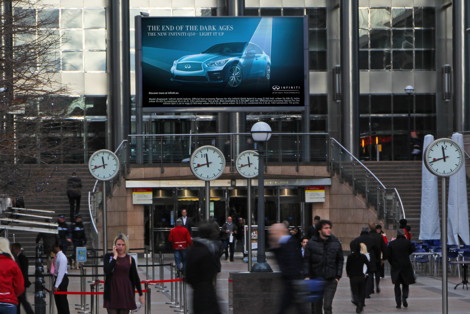 The digital screen, which now measures 22.6m2, offers improved clarity, resolution and contrast for full motion creative work by advertisers operating at the premium end of their sector.
The first brands advertising on the new screen are Swiss Air, Infiniti, Santander and the NBA, all targeting the upmarket male audience of Canary Wharf.
Brand campaigns here are combined with content from Thomson Reuters who appointed Ocean to manage the sales and marketing contract for the screen two years ago.
Ocean Outdoor marketing director Richard Malton said: "The Screen @ Canary Wharf delivers one of the most prestigious audiences in the country. It therefore makes complete sense that this location should be equal to the audience with regard to the quality of the advertising impact. Our latest investment in this iconic full motion digital screen delivers on that perfectly."
With an AB audience of 1.37m per fortnight, the Canary Wharf screen is regarded as one of the most prestigious digital out of home locations in the country, offering advertisers access to the lucrative City audience that occupies the 14 million square feet of office and premium retail space within the immediate vicinity.