Hot on the heels of recent tie-ups with Proxama and EE, Posterscope, the out-of-home (OOH) communications agency, further strengthens its mobile related proposition by teaming up with location-based advertising outfit, xAd.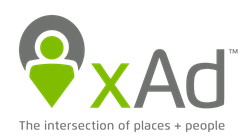 As part of a multi-territory partnership the deal will encourage and enable closer integration between location-based mobile display and OOH advertising, to increase the effectiveness of both media for Posterscope's clients and agency partners.
xAd's platform provides consumer location accuracy through proprietary technologies that pinpoint target audiences at pivotal moments during their day.
xAd then facilitates the geo-targeted serving of display ads to mobile users who are in or near targeted OOH media locations.
The combination of OOH with mobile display allows Posterscope to not only enhance consumer branding at optimal times and locations – but engage them through contextually relevant ad messages that can now be delivered right to the palms of their consumers hands.
Through xAd's first-to-market Store Visitation Lift (SVL) measurement product, actual in-store visitations post the OOH and mobile ad exposure can now be tracked, enabling Posterscope to effectively close the loop and provide a true measurement on campaign performance and ROI. This combination of OOH and location-based mobile advertising provides Posterscope with highly valuable data and insights to inform campaign measurement, evaluation and future planning.
Later this year, xAd and Posterscope intend to launch their real world retargeting initiative currently operational in the USA. Unlike traditional geo-targeting, which looks to reach users based on their current location and behaviours, this solution will allow the targeting of users based on their past visitation behaviours. As a result, Posterscope will have the ability to identify users who have recently visited their OOH placements and then to re-target them throughout their day with dynamic, behaviourally triggered ads in an effort to ensure the brand is easily accessible when it matters most.
James Davies, chief strategy officer at Posterscope, told us "Our partnership with xAd will help our planners and clients accelerate their understanding of how best to derive increased communications value by combining physical and mobile location based media in a highly accountable way."
Dipanshu Sharma, CEO at xAd, added "xAd has a long history of bringing traditional media (such as yellow pages, radio , TV etc) and mobile together, creating a more intelligent way of buying, based on real-world consumer movements and behaviours and optimized based on real-world performance metrics. The UK partnership will enable us to continue our success together, delivering advanced, highly-integrated solutions on a truly global scale."
Posterscope and xAd have worked together to develop a suite of converged media solutions for clients and partners looking to ensure mobile and OOH inventory works more efficiently, effectively and hand-in-hand across campaigns. Practical applications of this joined-up offering include:
Amplification: Geo-fencing of OOH sites with mobile display ads to boost brand and mobile media metrics.
Reach: Using mobile to expand ad reach to areas less served by OOH.
Bridging the Gap: Using mobile to reach consumers in-between OOH exposures e.g. while on-board trains.
Direction: Using mobile to direct people towards high engagement OOH placements, such as interactive or experiential displays, or to nearby stores.