This time I won't be lining up next to (and hence as always, outshone by) Téléciné Multimedia's James Fine – we are keeping James back for the Employees Communications 4 Digital Signage event in New York on October 23, Ed but I am looking forward to sharing the stage with the Beaver Group's Peter Critchley and others at Employee Communications 4 Digital Signage, London on October 8, 2014.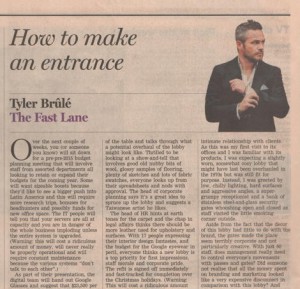 My talk will once again be entitled 'How to Reinforce a Brand, The Minute you Walk Into A Building' but this time I have some extra inspiration from one of Adrian's heroes – none other than Tyler Brule.
In Tyler Brule's The Fast Lane column in last weekend's Financial Times he wrote with his usual wit, wisdom and charm about how poor the decor was in the lobbies of some major corporations.
I will be using that as a base and discussing in some depth the award winning work that we have been doing with PwC (and LSE) and exploring many of the innovative concepts that we implemented for RMG Networks' Executive Briefing Centre in Dallas.
Outside of North America at least, this is still the first time that people will get a chance to take a look at what is undoubtedly one of the showpiece corporate installations of the year!
You can register for the event here.