Adrian J Cotterill, Editor-in-Chief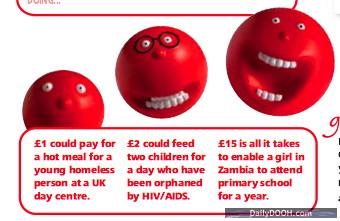 Today in the UK is Red Nose Day and millions of people up and down the country will be doing something funny for money.
The charity behind Red Nose Day is Comic Relief whose aim is a 'just world free from poverty' and they have been raising awareness for their big day through a multi-format digital and traditional outdoor campaign including 6-sheets, Taxi Media supersides, roadside digital LEDs and an animated digital campaign on Piccadilly Lite (shown below)
Red Nose Day is a day when everyone is encouraged to cast inhibitions aside, put on a Red Nose and do something a little bit silly to raise money – the celebrity-focused outdoor creative includes celebrities such as Fern Cotton, Gok Wan and Lenny Henry wearing their Red Noses and Stella McCartney-designed Red Nose Day T-shirts with the strapline "Do Something Funny for Money".
The Clear Channel Piccadilly Lite digital LED screen which, as we should all know by now, reaches an audience in excess of 2.2m per fortnight, features a specially animated sequence involving three Red Noses (this is designed to reinforce the message that for the first time this year there are three Red Noses to choose from)
According to Michele Settle, Marketing Director at Comic Relief "Donated outdoor advertising is a key feature of our promotion of Red Nose Day, an event that unites the entire nation in trying to make a difference to the lives of thousands of people, both across Africa and in the UK. The money raised will help transform lives forever."
Comic Relief's advertising campaign for Red Nose Day has been made possible through generous donations by the UK's media owners.