Breakfast brand Weetabix is the launch advertiser for Ocean Outdoor's new central Newcastle digital roadside screen, The Screen on the Tyne, which goes live this week.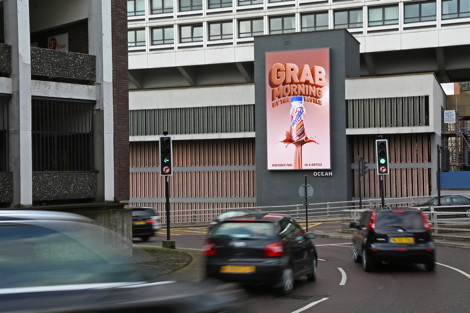 A campaign for Weetabix's new On The Go breakfast drink is targeting morning commuters. The campaign was created by Walker Media and planned through Posterscope.
Ciara O'Connor from Weetabix said "Weetabix On The Go is a huge launch for us, so planning out of home as our lead medium to announce this launch has been essential in order to capture the attention of a mobile younger demographic.
"Coinciding with the launch of Ocean's The Screen on the Tyne in central Newcastle, "The Big Morning in a Little Bottle" message couldn't be better placed to target consumers as they drive into work.
"With our AM commuter time activation on Ocean's and other Digital Out of Home sites throughout the country, we are confident that a new breakfast option for the British public will be taken to heart quickly."
This is Newcastle's first and only digital roadside screen. The Daktronics LED Screen on The Tyne is located on what is locally known as the Swan House roundabout, the main gateway into Newcastle city centre, dominating two of the busiest arterial routes into the City Centre.
Ocean Outdoor marketing director Richard Malton said "Newcastle has been a target for Ocean expansion for a number of years and is central to the development of our regional network across the UK.
"The Screen on the Tyne delivers everything that an advertiser would expect from an Ocean site; an iconic location, innovative design, the very best technology and above all a premium audience. Collectively, these elements deliver a deeper emotional impact for brands wanting to target shoppers and people on the move."