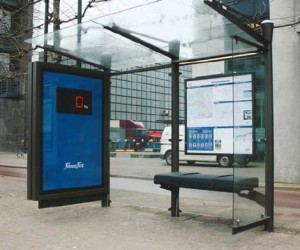 Already this year we are starting to see a slew of VERY exciting digital roadside deployments – the latest of which is a bus shelter in Rotterdam, Netherlands (shown to the right here) that weighs you whilst advertising Fitness First – though we think it would be much funnier if McDonalds were to 'tongue-in-cheek' start to use it…
Adam Frucci who posted the story up on Gizmodo says "This bus ad for Fitness First gives you the hard sell via shame. It uses a scale in the seat to display just how fat you are to everyone around"
We are not sure about 'shame' – we think this is really clever and love how it has been executed.
Adam added "It's an attention grabbing ad, to be sure, but one that might just cross the line into ruining the bus stop rather than just advertising via it. But hey, if it's getting people to work out at Fitness First, it's effective"
We believe that the agency involved was N=5 Amsterdam, The Netherlands.
This particularly innovative bus shelter of course follows on from the delightful JCDecaux with their Goo` The Egg deployment in London and we are also starting to see 'Coca Cola Interactive Advertising Panels' being deployed in 7 cities in Spain.
Pictures courtesy of directdaily who were the first to post the story over on their site.