Gail Chiasson, North American Editor
It's less than two weeks to go before our team heads to #2014SignExpo being held at the Orange County Convention Center South Building in Orlando, with Education and Networking events being held April 23, and the trade show April 24-to-26.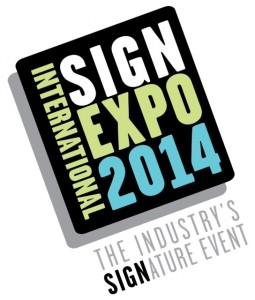 The event, the official show of the International Sign Association, will, for the second straight year, include a Digital Zone (officially, the Dynamic Digital Park) where, at last count, at least 19 companies will exhibit.
However, if the show is anything like last year, there will be several exhibitors outside this area that will also be showing digital signage.
Overall, some 500 exhibitors and 17,000 visitors will be participating in International Sign Expo.
ISA, in partnership with Roland, surveyed ISA Sign Expo 2013 attendees who visited the Dynamic Digital Park and/or attended Dynamic Digital Signage Day last year and the results – wide, varied and, for the most part, positive – are available here.
This year, on the education day program, there is again another full day session dedicated to digital signage. Attendees can find out how this new technology is revolutionizing the signage marketplace and how they can add value to their sign shop with new product offerings and new business partners – we note that Daniel Parisien, vice-president product and strategic planning, BroadSign International Inc.. is speaking. This session runs from 8:45 a.m. to 5 p.m.. There will also be some free sessions during the trade show on the exhibit floor.
A Dynamic Digital and Integrated Design Reception will be held Thursday, April 24, from 4 to 5 p.m p.m. in the Digital Zone on the Trade Show floor. This invitation-only event will host integrators, end users, suppliers and distributors of interactive dynamic displays. To request an invitation, email: design@signs.org.
As for our team, you'll find us mainly in the Park, but we will be keeping an eye out for digital signage in other parts of the hall, as well.