Adrian J Cotterill, Editor-in-Chief
The presentation on Thursday at #2014SignExpo entitled 'Demystifying Digital Signage For Sign Makers' from Roland DGA Corp. President, Rick Scrimger (11:00 in the Dynamic Digital Park) should be an absolute hoot when they (Roland) are NOT embarrassed to show this (and I make no apologies for using this word) CRAP at the event…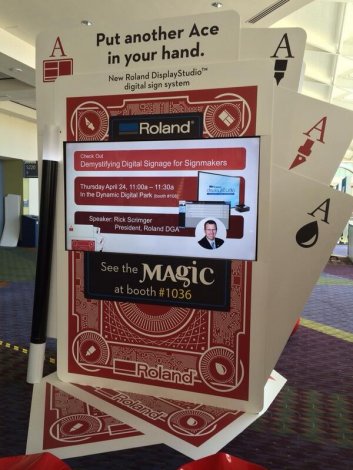 Let's take shall we, a pack of playing cards as our design metaphor … then forget totally that playing cards are like, PORTRAIT and then throw a digital display into the sign in landscape across, what would otherwise have been a nice static sign.
The 'sign' itself is nice, 'Put another Ace in your hand' a good call to action to advertise the new Roland DisplayStudio digital sign system (note to the ISA, not even Roland are using your ridiculous Dynamic Digital Signage moniker) BUT whoever figured out why a TV screen should be thrown across the middle of it should be fired instantly.
Then let's take a look at the digital content on display – the designer has forgotten that the 'pack of playing cards' is the background to the design … there's even an instance of the digital display going dark – where it looks like the screen is off .. so bottom line even their transitions are awful.
At worst this was designed by two different people, at best .. no wait there isn't a best. This is probably one of the worst screen displays we have ever seen.