An NEC OPS media player will be shown by Netpractise, the specialist digital signage software developer, running its new Digital Pro Media Android client at next week's NEC Showcase.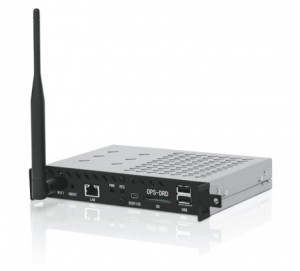 The fully-featured NEC OPS Player is based on a Quad Core ARM processor with integrated Multi-Media Processor that supports full 1080p playback. The Digital Pro Media Android client is one of several new product launches for Netpractise since its acquisition by Nottingham-based The TEW Group.
Netpractise will be exhibiting and demonstrating three digital signage solutions developed specifically for the transportation sector, including Operational Information System (OIS), interactive Customer Information Screens (CIS) and ticket office Queue Management System (QMS). All three solutions are currently operational within the UK and EMEA rail and metro networks.
Kevin Taylor, Managing Director, Netpractise says: "As part of The TEW Group we now share the expertise and resources of a business that is celebrating its centenary this year. It's a great position from which to re-launch our class-leading portfolio of digital products. It also provides our customers with the reassurance that we now enjoy the security, support and investment afforded as part of an £18m group of companies."
Ed Heal, Sales Director at Netpractise, commented, "We have been waiting for the point at which the Android player hardware development had matured and could offer an 'always on' commercial quality media player that would match the reliability of Netpractise software solutions. The NEC OPS Player is what we were waiting for. This development has the potential to provide large scale signage networks at an attractive price-point, whilst maintaining the mission critical performance levels required for the transportation market."
Netpractise's solution uses the latest release of Netpractise Digital Pro Media (DPM) software, a cloud hosted, web-based system scalable to any network size and providing considerable ease of use, with the claimed shortest ever 'drag and drop' process from media upload to publishing on screen.