Adrian J Cotterill, Editor-in-Chief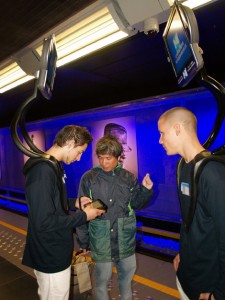 On 2nd April, the new metro in Brussels (STIB) received a royal visit. King Albert II inaugurated the new metro and the metro station Gare de l'Ouest (by the way that is NOT the King in the picture on the blog).
It wasn't the first time that a Metro received such a distinguished visitor – Cübb was in the Paris Metro in February and before that in Toulouse (TISSEO in December 2008 😉
Cubb had 6 Cyklop™ systems complete with Cytouch™ interactivity which showed off the new website www.lenouveaumetro.be and to help people with wayfinding.
Booked by EURO RSCG Brussels.