Adrian J Cotterill, Editor-in-Chief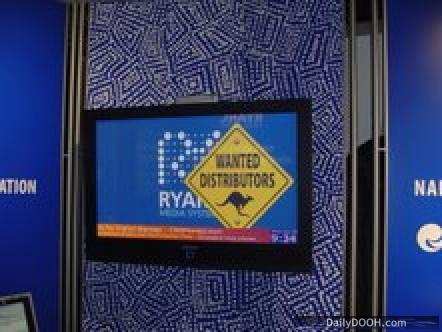 Ryarc Media Systems have no problem in advertising their need / desire for Distributors. The above photo was taken on their stand at ISE, Amsterdam. We see also from their latest press release that Ryarc will be at Digital Signage Expo, Las Vegas with the Advantech folks on booth No. 250
PRESS RELEASE

Ryarc will exhibit at the Digital Signage Expo in Las Vegas

Sydney, Australia 18th February 2008

Ryarc, a digital signage software company, will exhibit at the Digital Signage Expo in Las Vegas from the 27th to the 28th February. You can find Ryarc at booth #250 with their hardware partner, Advantech. Ryarc and Advantech have joined forces to present Ryarc's CampaignManager digital signage software and Advantech's DSA-3400 player as a powerful digital signage solution.

Ryarc will be demonstrating the latest version of CampaignManager (to be released in March) and looks forward to meeting attendees and fellow exhibitors during the expo. Ryarc is searching for value added resellers and distributors to maximize the growing digital signage market and invite anyone interested to visit them at booth #250.

Ben Mooney, Sales and Marketing Manager of Ryarc said "We look forward to the Digital Signage Expo. This year Ryarc will continue to grow its market share by partnering with suitable resellers and distributors. DSE will give us an opportunity to meet with potential partners and build upon existing relationships."

With a proven, reliable, easy and cost efficient product, Ryarc offers VARs and Distributors an exciting opportunity.

Ryarc's CampaignManager is an enterprise level end to end digital signage management platform with remote management, publishing, monitoring, logging, proof of play and versatile playback capabilities. CampaignManager delivers Flash animation, regular and HD video, live web content, RSS tickers, images, live video capture, digital (DVB) and analogue TV in a seamless channel.

Ryarc's CampaignManager has been designed from the ground up to be instantly familiar to users of common PC applications. No specialist training or knowledge is required. Combining a user friendly interface with unparalleled scheduling power and flexibility, CampaignManager is the clear choice whether you wish to run a single display, or a global digital signage network.

About Ryarc Media Systems (http://www.ryarc.com)

Ryarc Media Systems is a software company focusing on Digital Signage Software, media distribution and playback technology. Ryarc's core product is CampaignManager, an end-to-end Digital Signage management platform which is used worldwide to operate and manage mission critical digital signage networks.

The Ryarc team has been working on CampaignManager since 2001. Ryarc has representatives in Australia, New Zealand, US, India, and the European Union. Each year, Ryarc technology helps enterprises deliver over a billion media impressions to people in retail, hospitality, airports, waiting areas and public spaces.